"Chronological professional productions of all 50 O'Neill works, scheduled to end on Dec. 10, 2036, the 100th anniversary of O'Neill's Nobel Prize." -
NY Times

I.PERFORMANCES

The mission of Playwrights Theater of New York is "to explore the life and plays of Eugene O'Neill to inspire new work." This exploration is built on our flagship project of presenting O'Neill's 50-play canon, 21 to date, as THE O'NEILLFEST SERIES.


O'NEILLFEST highlights have included three premieres: Bread and Butter, The Personal Equation (w/Ralph Waite) and Now I Ask You (w/Marian Seldes) The New York Times has called our series "a noble effort" and The Wall Street Journal has called it "a large and intelligent achievement."



THE O'NEILLFEST SERIES...

was announced with a staged reading of Long Day's Journey Into Night at Broadway's Roundabout Theatre w/Julie Harris, Philip Bosco, Peter Gallagher, Tom McCamus and
Allison Janney with remarks by Arthur Miller and Barbara Gelb.


The production series commenced soon after as follows:
A Wife for a Life (1913)
The Web (1913)
Thirst (1913)
Recklessness (1913)
Warnings (1913)
Fog (1914)
Bread and Butter (1914)
Bound East for Cardiff (1914)
Abortion (1914)
The Movie Man (1914)
Servitude (1914)
The Sniper (1915)
The Personal Equation (1915)
w/Ralph Waite
Before Breakfast (1916)
Tomorrow (1916)
w/Charles Durning
Now I Ask You (1916)
w/Marian Seldes, Kathleen Chalfant and Phyllis Newman
Ile (1917)
w/Marian Seldes and Brian Murray
In the Zone (1917)
w/Frank Wood, Harris Yulin and Brian Murray
The Long Voyage Home (1917)
The Moon of the Caribbees (1917)
The Rope (1918)
Beyond the Horizon (1918)


II. PROGRAMS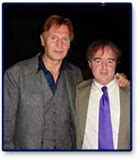 THE PLAYWRIGHTS THEATER FORUM - Liam Neeson has been a guest in The Playwrights Theater Forum. First inaugurated as Jose Quintero's historic lecture series in 1998, other memorable Forums have since included an evening written and narrated by O'Neill biographer Barbara Gelb, O'NEILL: A PLAYWRIGHT AND HIS MOTHER



THE O'NEILL REVUE – The O'Neill Ragtime Revue is a musical primer on O'Neill that features his poetry and letters as interwoven with songs heard in his plays. Here is a link to a performance featuring cabaret artists Steve Ross, KT Sullivan and featuring the Yale Society of Orpheus and Bacchus: CLICK FOR YALE PERFORMANCE OF O'NEILL REVUE.